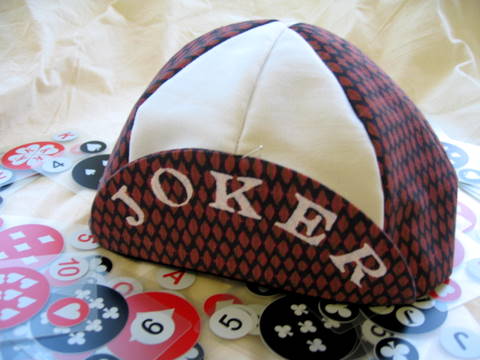 I'm terrible at poker.
I think the last time I played, the best hand I had was a pair of 2s. I folded almost instantaneously.
And while I tend to play my hand close to my chest when it comes to life in general, I ironically cannot keep a straight poker face.
So it was with a stupidly happy smile on my face that I met Joshua and Zack of Open Bicycle a few nights ago at Herrell's in Allston. I handed over to them my first full custom job for the Royal Flush Pokercat & Boldsprints event this Sunday. I was so excited, I even did a fair share of giggling.
And while the cards are stacked against my attending this event - a fact that I've been upset about all week - this is going to be awesome. Not only because one of my hats will be a prize, but who can really turn down 100 free burritos at 10pm after an alleycat, boldsprints, and a few beers?
[And with the exception of a particular law student with an Environmental Law final from hell on Monday,] no one, that's who.