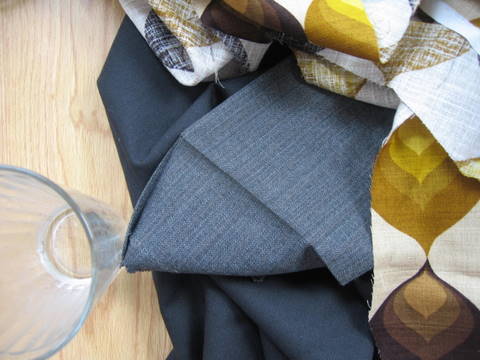 Measuring up has never really been my forte.
Even literally. Something's always not right. I've mastered the art of miscalculation of seam allowances. Making patterns from my own measurements means drawing, cutting, sewing, making adjustments, ripping it apart, then repeating, repeating, repeating.
It's easier when you have a friend be your "model." You don't have to twist around so much while using three strategically placed mirrors to make sure the back of the shirt you're making is just right while you manage to jab yourself with about ten pins. In, like, your armpit.
But it's also harder to please someone who isn't you. Because everyone judges. I claim not to, but I still will. "The hem line is crooked." "The thread tension's off." "Look at all the mistakes - I can't ever wear this in public."
Which makes making things that much more excruciatingly painful and annoyingly perfectionist.
"Why don't you ever wear what you make?" my best friend once asked me.
"Because I'm too embarrassed by all the mistakes."
"I think you're just OCD."
That's probably true. But I'm still not sure if I'm measuring up, or even measuring correctly. So I'm still worried about the fit of the hats. Are they too small? Too big? What about the brims? Too small? Too floppy? Too...something?
Am I measuring up yet?