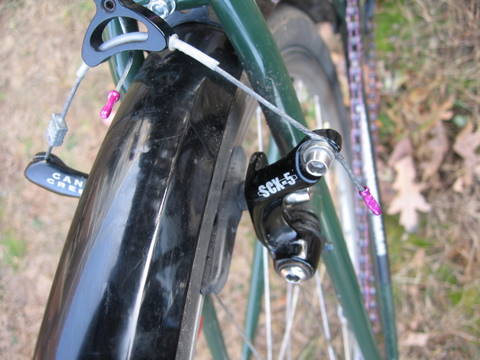 I've been on a mission since this past summer. A mission to pink out my bike.
It's kind of an odd combination - a dark green Bianchi San Jose with pink handlebar tape, pink bottle cage, pink chain, and even pink toe straps. A watermelon bike.
Don't get me wrong, I've never really been into pink. I'm not the type to pink out everything because, well, I'm not 13 anymore. But on my bike, it's totally acceptable and appropriate. Because I said so.
So when I went to the best bike shop ever to get a brake lever installed, my jaw almost dropped to the floor to come back and see that the incredibly wonderful mechanics had given me pink brake cable ends. Front and back.
And to sweeten the deal just a little bit more, I even got a pink valve cap, "ripped off an old tubular from the 80s."
Nearly a week after I had my brake installed, this still brings a goofy smile to my face. Hey, it might be freezing outside - and windy! - but my bike is awesome.